A NOTE ON THE AUTHOR: Margo Krager, owner of ReproductionFabrics.com, a website and storefront located in Northfield, MN, has been a fabric retailer since 1984. She has spent over 20 years researching historic cotton printed and yarn-dyed fabrics used in quilts and garments, gives lectures on historic dye, and print technologies and does hands-on workshops on Center Medallion Quilts.
Margo received a Bachelor's of Science degree in Medical Technology in 1970 from Michigan State University and worked in that field for 15 years. In 1984 she switched needles and became a fabric retailer. Since that time she has also done graduate level work in History at Montana State University, distance learning through the Quilt Studies Program at the University of Nebraska-Lincoln and published a professions paper, The Calico Trade Shirts on the Journey with Lewis and Clark, with the Textile Society of America.
Her design inspiration comes from the 9 antique fabric sample books she owns.
Andover Textile History Notes: Chintz
by Margo Krager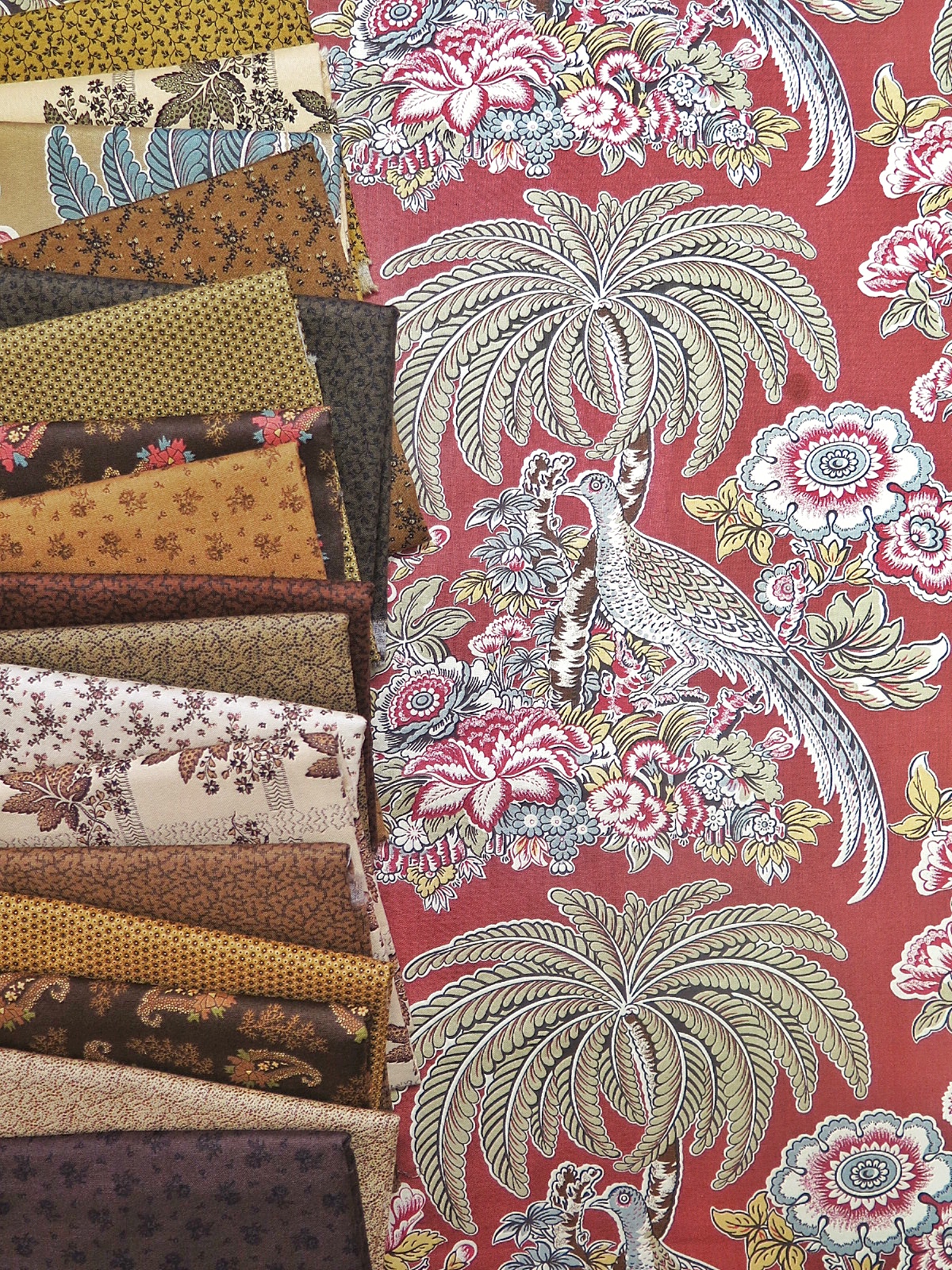 Chintz or calico…can be a pattern, a finish, or just plain muslin.
In early merchant ledgers (17th/18th Century) the terms chintz and calico were often used interchangeably. Even today some of my customers refer to muslin as calico. Generally 19th century calicos featured a printed pattern on cotton fabric in the foulard style (small motifs on a diagonal…think menswear ties) and were used as dressgoods.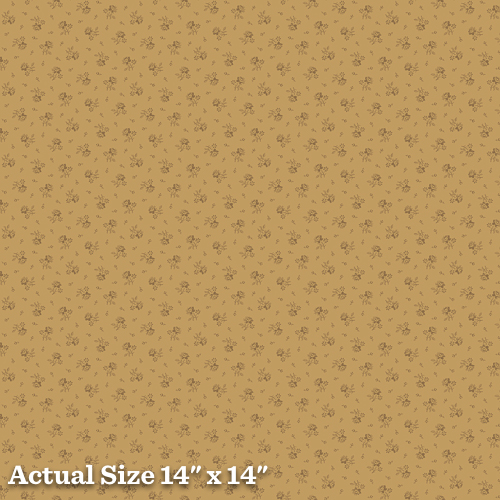 PHEASANT & TRACERIES: A-8298-Y 
Large complex multi colored floral patterns or realistic birds in a natural setting, sometimes with a shiny finish, were called Furnishing Goods or chintz. The surface glaze applied to these early fabrics could be from a natural product like beeswax or a mechanical polishing and was used to both brighten the colors and to imitate the shine of silks. Early chintzes were used for garments, women's dresses and men's dressing gowns as well as bed coverings. Today we generally think of large complex chintz patterns as Decorator Fabrics.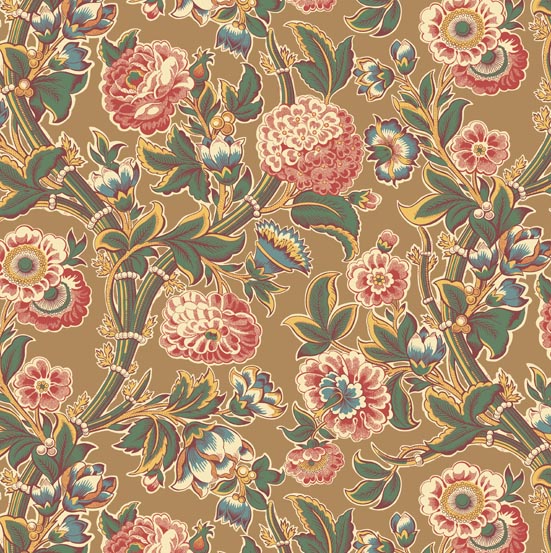 The establishment of numerous American textile mills early in the 1800s not only fueled the American Industrial Revolution, but also provided competition for imported textiles, especially those from Great Britain. In 1836 American domestic print production was 120 million yards. These were largely small scale prints for clothing. Roller printing of two colors had been the main product in 1835; by 1840 the mills here were capable of 3 color designs. The reaction to loss of American market share in England was a dramatic decline in artistic standards for their cotton prints coupled with a large increase in production. (The lower cost, bigger volume approach) In 1835 British mills had exported just under 280,000 million yards of printed cottons to the United States, by 1845 that had risen to 413,000 million yards.
The first edition of John James Audubon's Birds of America was printed in London in 1827. It had a large influence on textile design. His illustrations inspired the popular Bird Style chintzes of the period. Pheasant Under Palm Tree, one of those prints, was offered in several different background colorations. The high point of the English chintz industry is often considered to be 1840-50. By the American Civil War Era (1850-1880)…small neat foulard style calicos and plaids, plaids and more plaids (printed and woven) were fashionable.
Pheasant Under Palm Tree Chintz has an amazing chintz finish! It will last through several washings.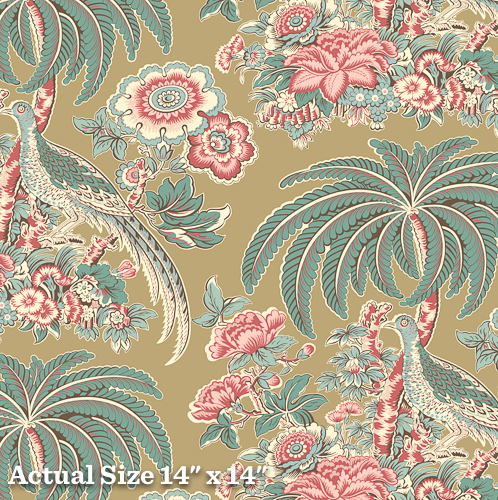 PHEASANT & TRACERIES: A-8292-N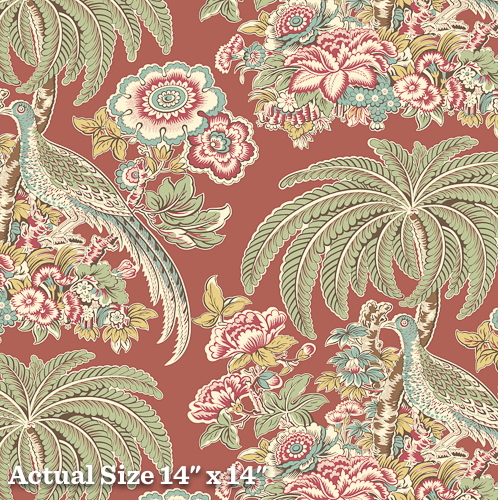 PHEASANT & TRACERIES: A-8292-R
The print style is an 'island' pattern in a drop set. This means one horizontal row will have 2 of the pheasants and palm tree motifs and then the 'half row up' will have one motif in the center with 2 partials on each side. This arrangement works beautifully for a strippy style quilt, especially popular from 1800-1860.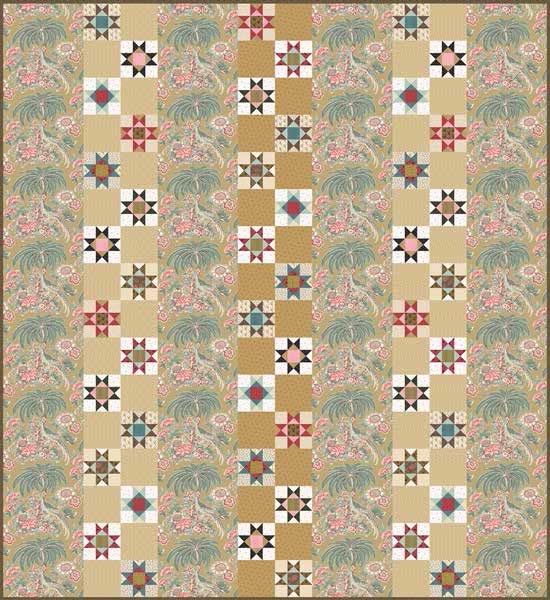 FREE PHEASANT & TRACERIES PATTERN: STARRY PATH
The term Chintz can mean a print style, large colorful florals or birds, or a finish. When the American market was flooded with those poorly designed, cheaply printed goods in the 1840s, those fabrics were often referred to as 'chintzy'…gaudy and cheap.
Margo Krager's new collection Pheasant & Traceries is available now. Be sure to tell you're local quilt shop that you can't wait to get your hands on the line!