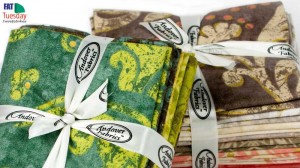 We have a winner!  Colleen of North Port FL answered this week's question correctly and was randomly chosen among all of you who did the same. A gorgeous fat quarter bundle of Lonni Rossi's French Twist fabrics is on it's way to her. Collen writes:
How exciting! This is always such a fun contest, especially with two ways to win. Thank you! I can't wait for the UPS man!
We couldn't be happier for Colleen! Don't miss out on your chances to win – you have two weeks to go for the weekly prizes, followed by the opportunity to go  all the way and win the GRAND PRIZE of 6 collections worth of fat quarter bundles! Watch, play and win!