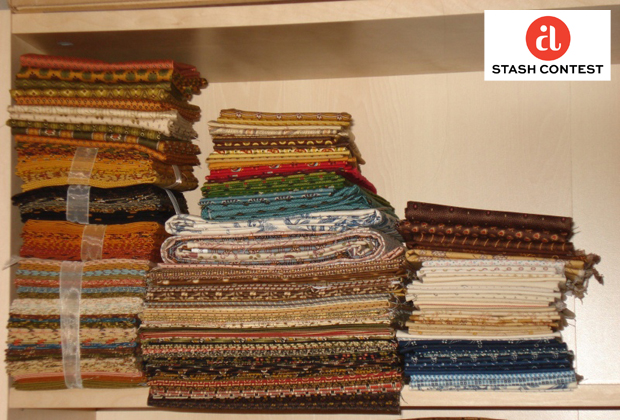 Congratulations to this week's winner of the Andover Stash Contest, Terri Overton. This is what Terri told us about her stash:
I have been quilting for a little over a year.  My husband retired from the military and we moved to a state where I knew only one person.  I took a class at my local shop as a way to meet new people.  The fabrics that I chose for my sampler quilt were predominately Andover and most of those from the Jo Morton line.  I immediately fell in love with the richness of the colors and have been buying that line every chance I get.

The ribboned packs on the left are fabrics I just received and haven't had a chance to sort yet but some of it will be used with the small stack on top of them.  The large stack in the middle are 1/2 yard cuts from a couple of lines, some sale yardage, and a 3yd cut of the toile from Blue Variety.  The other fabrics I've sorted by color since I've already cut them and am working with them in other quilts.  I am really looking forward to adding the Dovetails and Savannah to my collection and quilts.
Terri will be receiving an Andover Fabrics prize pack to add to her wonderful stash.
We will be choosing our final winner next Monday, so send a photo of your stash to stashcontest@andoverfabrics.com and tell us why you love the fabric for your last chance to win!