The House that Jack Built
by Katie Hennagir
Hi! My name is Katie Hennagir and this is my son, Jack.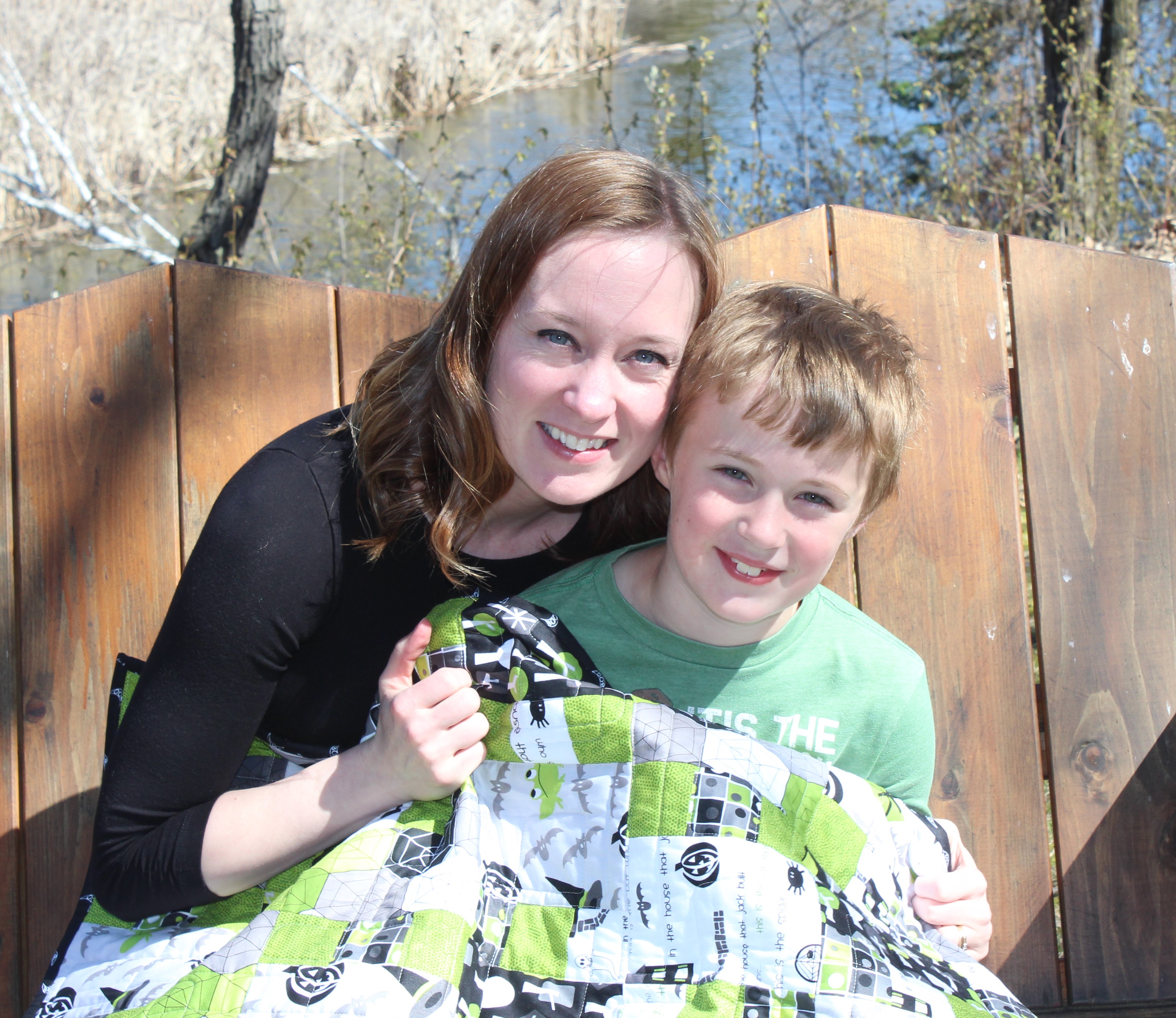 And this is "The House That Jack Built."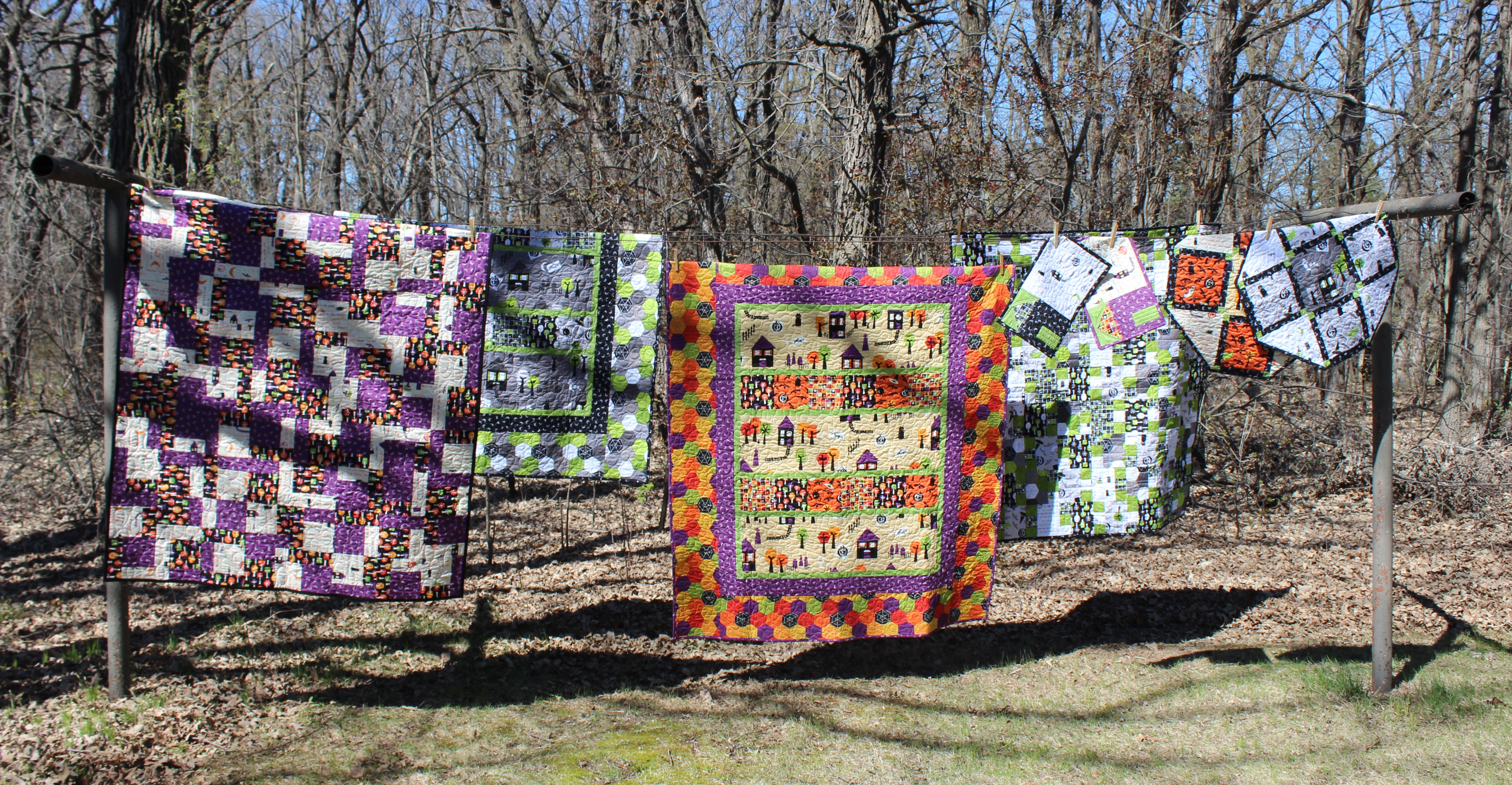 Ever since my son Jack was little his "thing" has been Halloween. While other kids would have chosen dinosaurs or super heroes, Jack gravitated towards anything spooky. He loved bats, spiders, ghosts, and of course jack-o-lanterns. As our Halloween decorations started to outnumber our Christmas ones, I knew we were in deep. When he asked if he could decorate his bedroom in Halloween all year round I said, "why not." Don't get me wrong he's not the only one who loves Halloween; I also love celebrating this holiday with fun sort-of spooky decorations. It wasn't long before my love for Halloween and my love for Jack mixed together to create an idea in my head to design a line of fabric that would be a clever play on words with the nursery rhyme The House That Jack Built.
I knew right away that I wanted to create a fabric that would include my new version of the traditional nursery rhyme. I didn't have to go far to find someone who was eager to help me write it. Jack and I brainstormed our own version with phrases like, this is the cat that chased the ghost… this is the door that creaked in the night… the is the witch who turned into a toad… in the house that Jack built. From there I added in prints that include Jack's spooky house, a hexie spiderweb, and funky trees.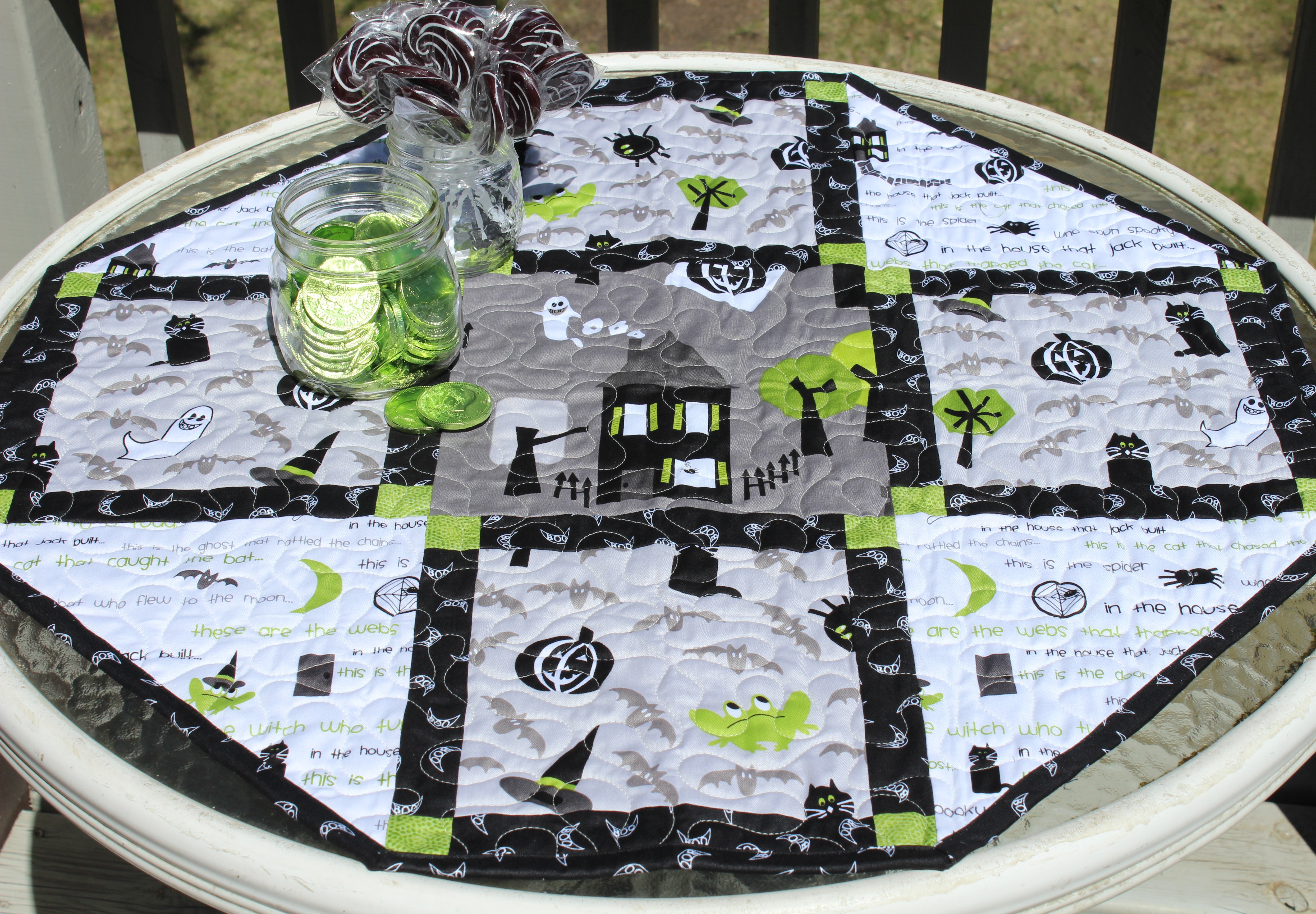 As a fabric designer, my favorite part of the process is figuring out what projects to make. I love creating free quilt patterns that coordinate with the line so that you can get right down to the business of sewing.
This time I created three different patterns that can be found on Andover Fabric's website (just click on the Quilts and Downloads tab to find them). Above you will see Jack's Centerpiece. This is the perfect little table topper for adding a splash of Halloween to your décor. I love the gray and green combo and had a blast shopping for coordinating candy! It's never too early to start getting ready for a party, right? I'm also pretty smitten with the orange colorway.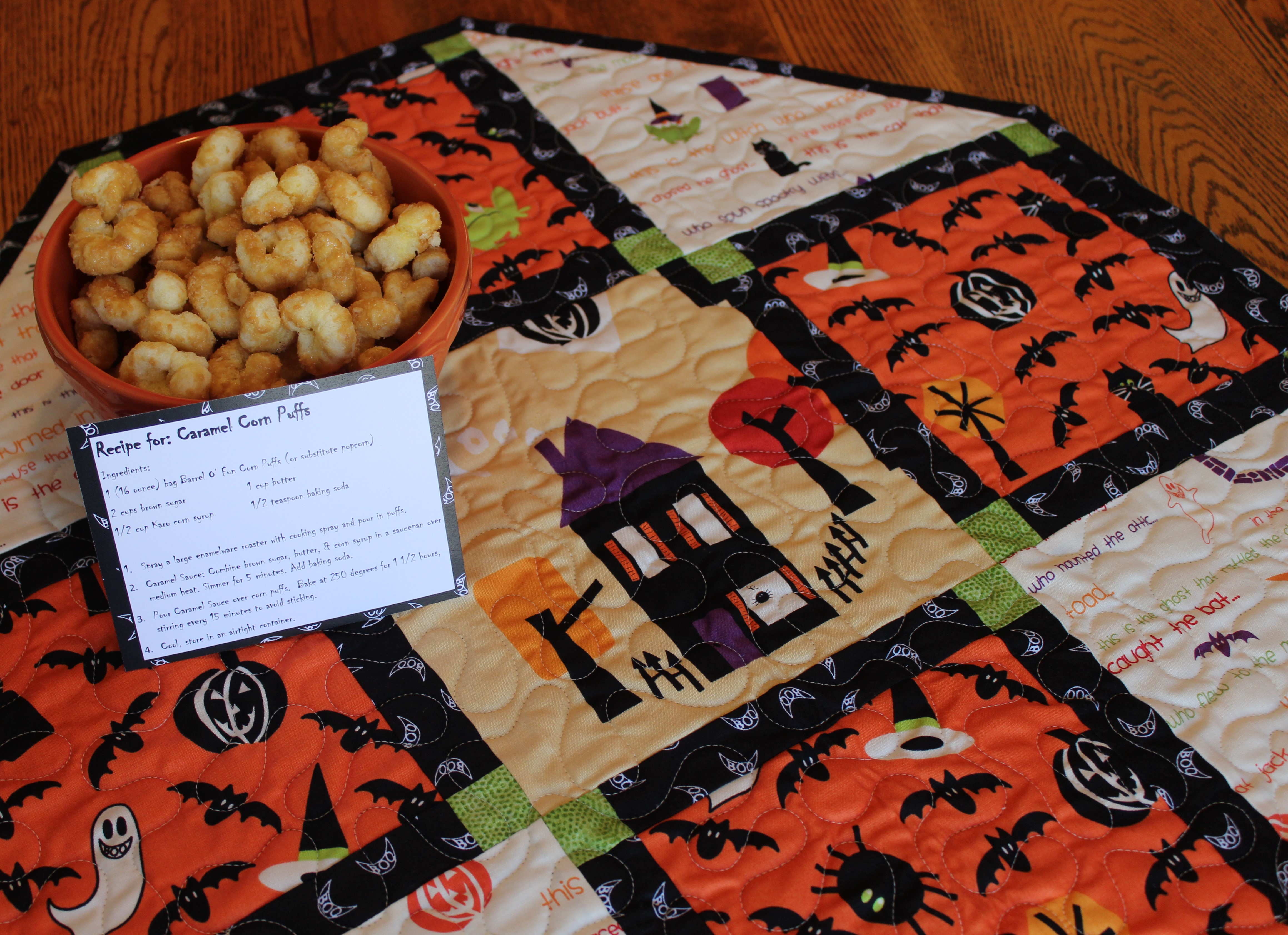 I know we'll use this centerpiece when we celebrate Halloween along with one of our favorite snacks: Caramel Corn Puffs. This is something my mom has made for years and it is just the perfect amount of sweet and salty. Head on over to my blog for this recipe as well as a couple more spooky time favorites: Monster Cookies & Buckeyes!
I also created these adorable candle mats or placements that feature a pieced house on one side and the story on the other side.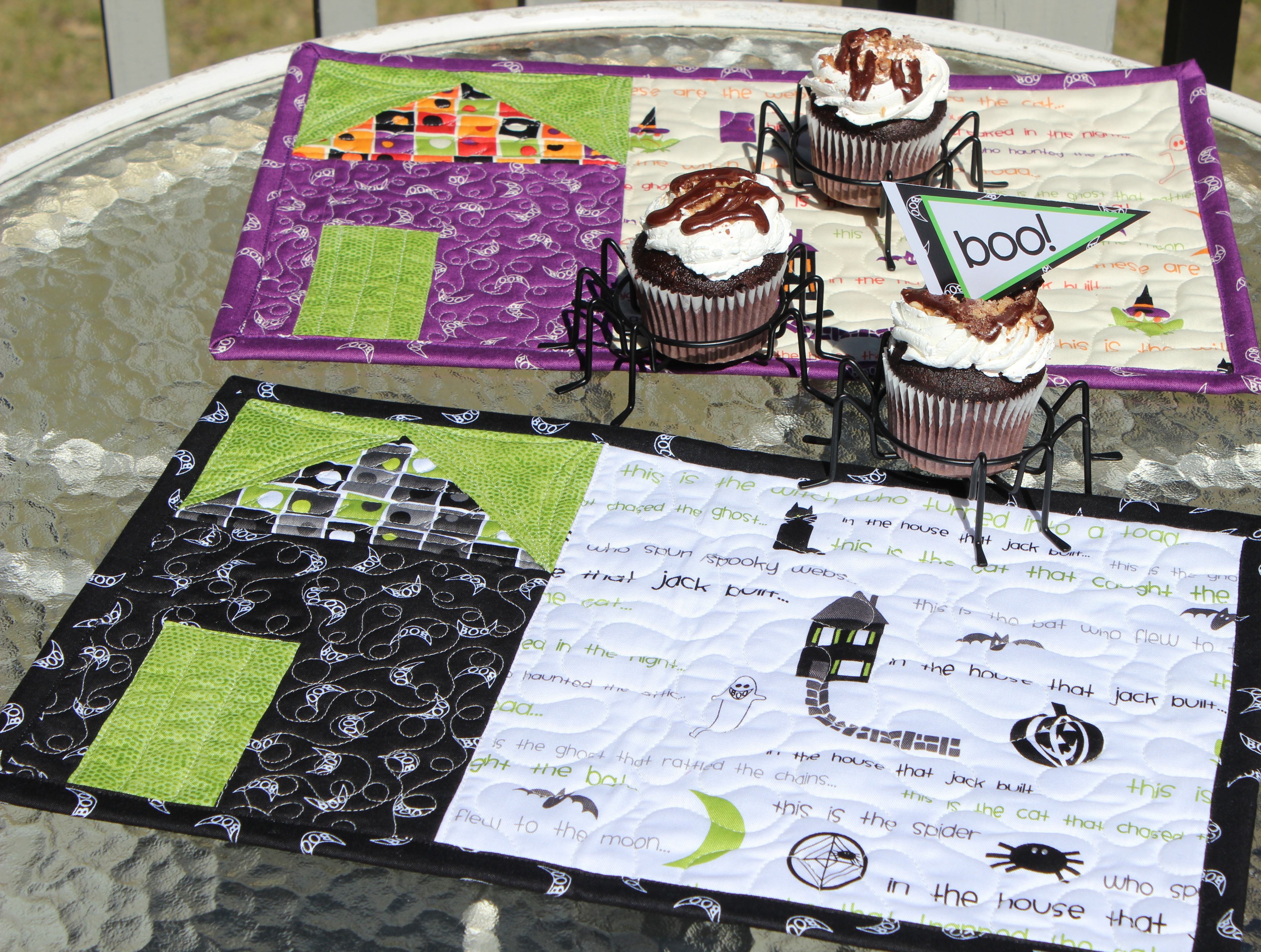 I think these would make a great gift. You could tie one around a bottle of wine or include it with a cute coffee mug. It would be a great hostess gift if you're headed to a Halloween party!
This girl said, "those cupcakes were a great prop mom!"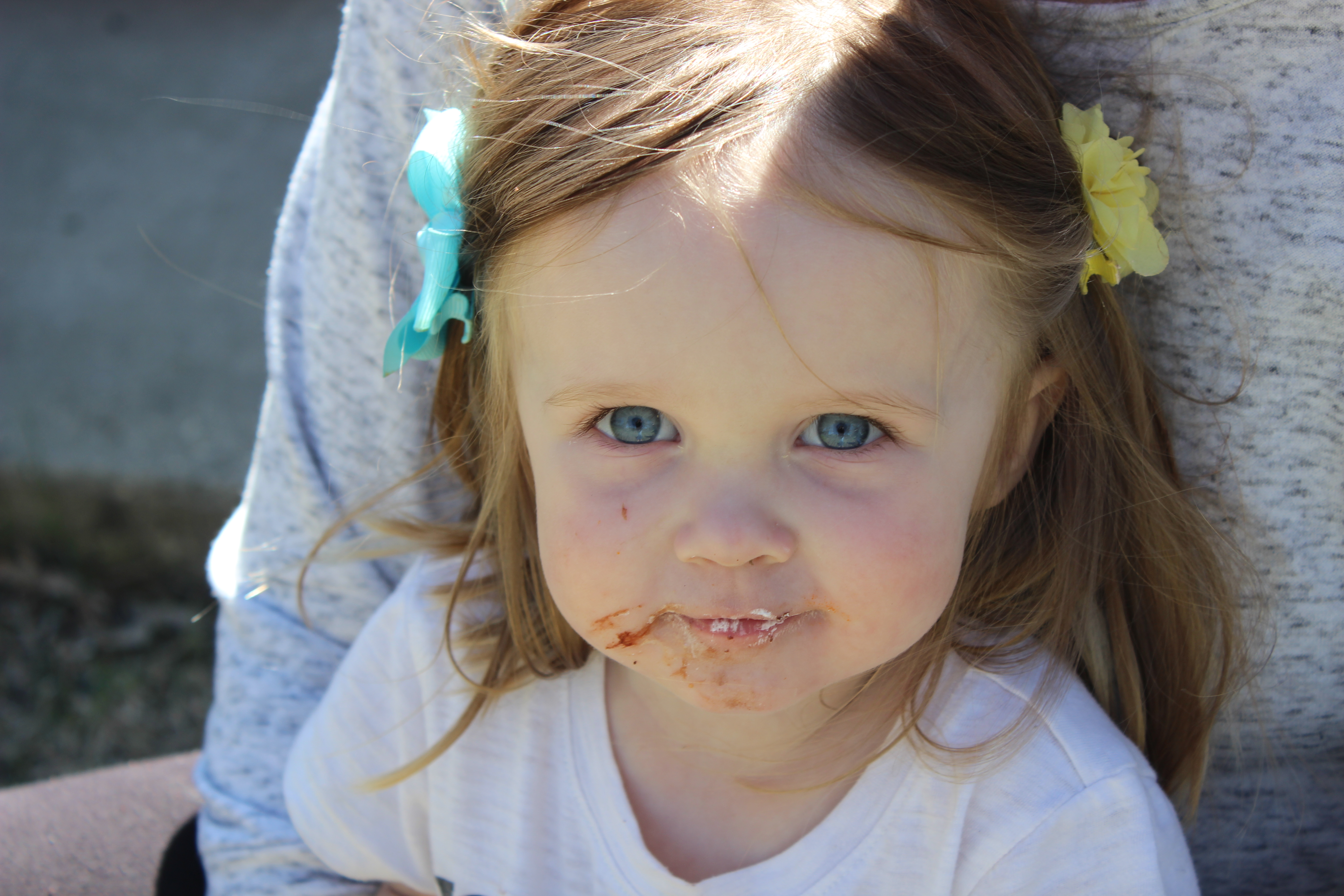 And of course there had to be quilts!! Jack's Quilt is a quick and easy sewing project that lets the fabric do all of the work.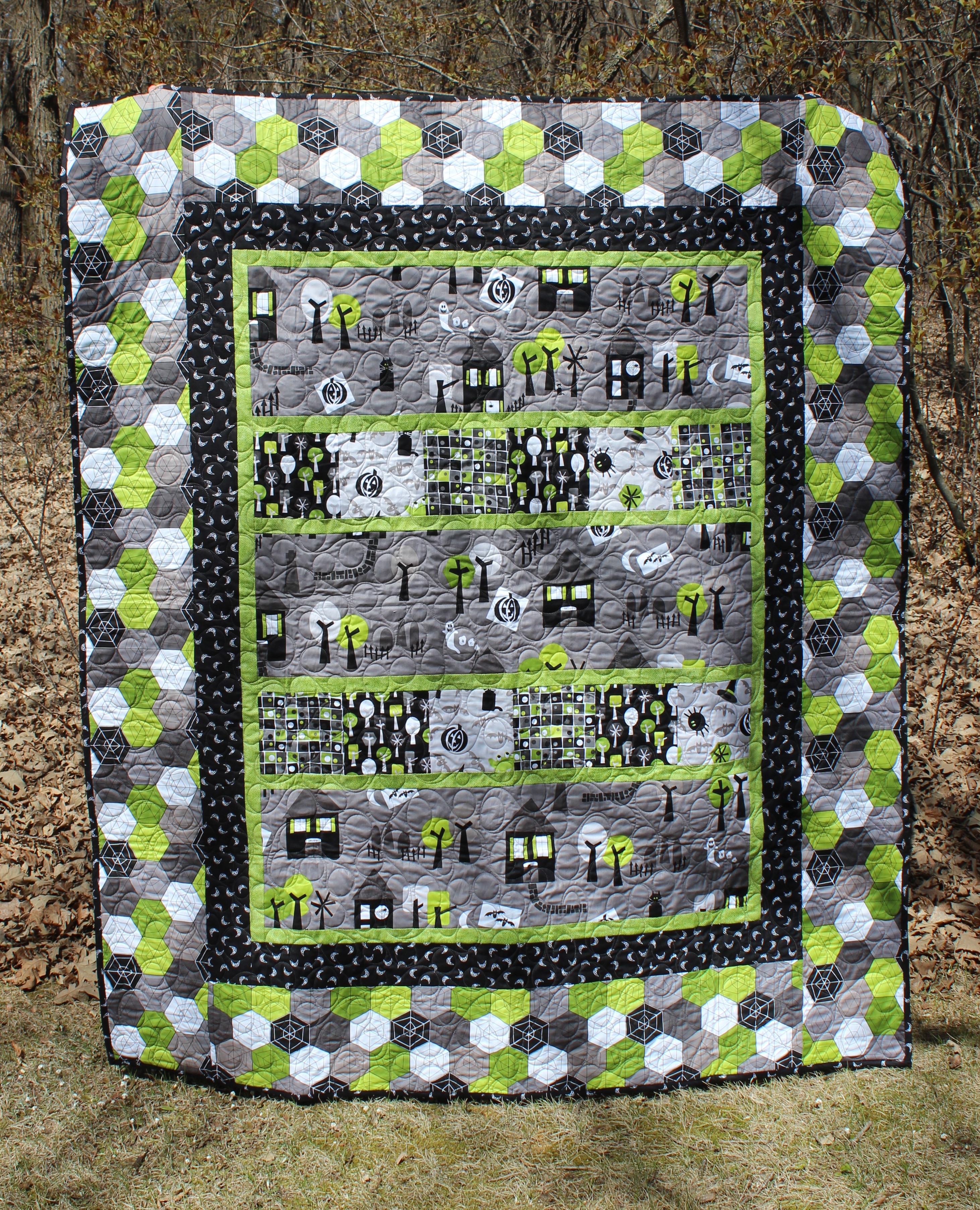 This pattern is also a free pattern on Andover's site so be sure to go and download it.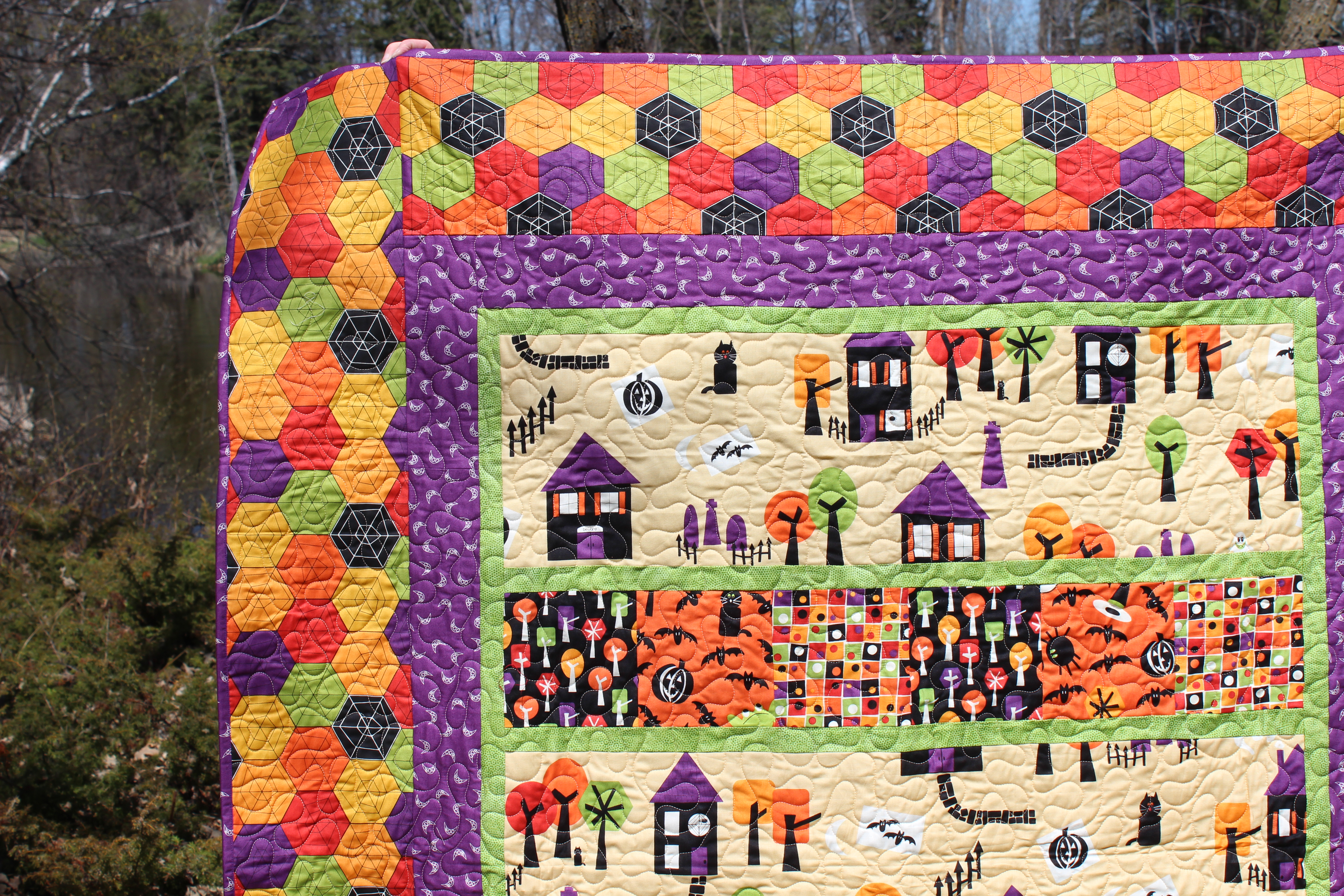 I love how the hexie border frames these quilts. I also decided to make up two of my best selling quilt patterns with fabrics from "The House That Jack Built". Here's a look at my Just Three Yards pattern. It's just a half yard each of 6 different fabrics.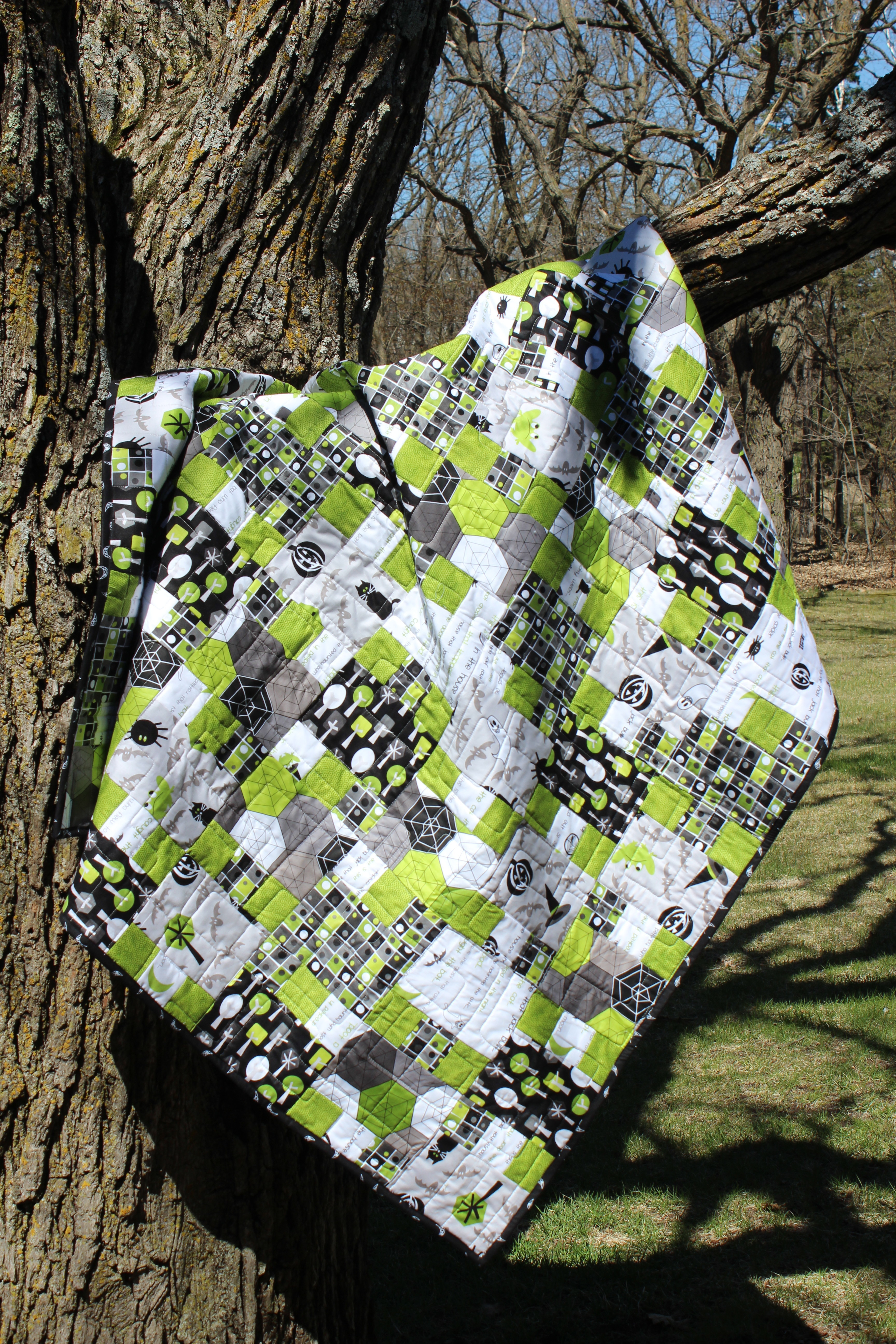 And here is my Three Yard Throw pattern. A yard each of three different prints.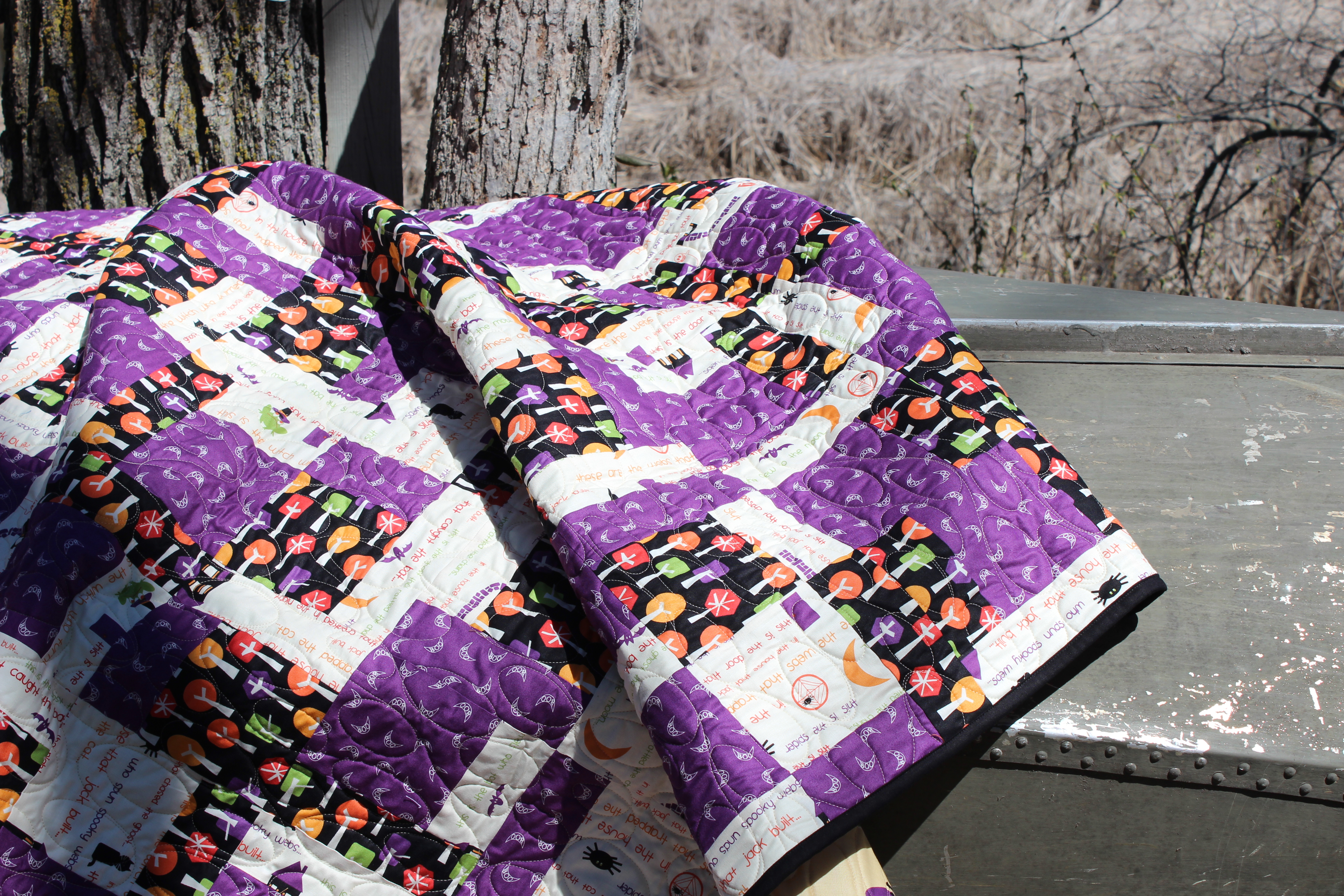 Both of those patterns can be found on our shop's website, Bay Window Quilt Shop:
Thank you for taking the time to hear about my new fabric line. I am thrilled to be able to show it to all of you along with what I've made so far. Knowing me, there will be more projects and ideas for using these prints that have a special place in my heart. If you want to join me along the way be sure to follow along on Instagram (@katiehennagir) or my blog. There are only 178 days until Halloween….